The city of Muntinlupa is once again leading the way in terms of competitiveness, belonging to the country's one of the five most competitive, highly urbanized cities.
Muntinlupa was recognized in the Top 5 Overall Most Competitive Cities in the country at the recent Philippine Creative Cities and Municipalities Competitiveness Congress organized and held by the Department of Trade and Industry (DTI) at the Manila Hotel on September 28.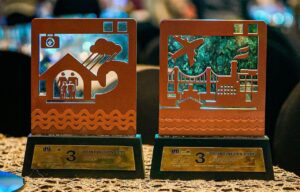 "We are definitely very proud as a city of this achievement, as this validates the work of the local government to bring Muntinlupa to the forefront as an economic destination. It also challenges us to continue to work excellently as we maintain to be the very best among cities in the Philippines and even in Southeast Asia," Mayor Ruffy Biazon said.
The city was rated among the Top 3 Most Competitive Highly Urbanized Cities in terms of infrastructure and resiliency and among the Top 6 in innovation.
The DTI, through the Competitiveness Bureau, evaluates local government units in the country as being competitive based on five central pillars: economic dynamism, government efficiency, infrastructure, resilience, and innovation. These indicators show if a particular LGU is conducive to economic activities, making it ideal for local and foreign investors as a business destination.