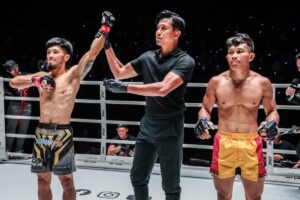 As confident as Lito "Thunder Kid" Adiwang may be in his comeback fight at ONE Friday Fights 34, he admitted that he never felt as nervous for a fight as he was ahead of his face off against Adrian "Papua Badboy" Mattheis.
But it's not because of the pedigree of his Indonesian opponent, but rather, the inner demons that he had to battle in his road to recovery.
"Before going to the fight, aaminin ko na this is the most nervous I've entered a fight in," he stated. "Maraming pressure at alam natin lahat ng nangyari."
Adiwang suffered a tough loss to a debuting Jarred "The Monkey God" Brooks at ONE NextGen III and hit rock bottom when he tore his ACL in his fight against Jeremy "The Jaguar" Miado at ONE X that not only sent him spiraling to a two-fight skid but also forced him to stay on the sidelines for the next 18 months.
"Natalo tayo and it hurts so much nung natalo ako kasi doble yung impact: natalo ako kahit na I believe I can beat that opponent at natalo ako na pilay ako, na I needed to do surgery, operations, rehab, and everything. Lahat na natalo," he said.
It's in these moments, though, that Thunder Kid learned that there's really nowhere to go but up.
"Ayokong mabalik sa ganyan. So I really had to think positive, believe in myself, and pull the trigger, and do my best," said the Igorot rising star, who's now fighting out of Hiit Studio in Bali, Indonesia.
"Lahat ng nangyari sa akin ang nakapag-boost ng confidence ko para di na ulit yun mangyari. Kaya talagang pinush ako na once mag-comeback ako, walang rason na matatalo tayo."
What a way really for Adiwang to make his comeback as he scored the technical knockout win over Mattheis in just 23 seconds, silencing his doubters and announcing that he's back in the hunt for the ONE Strawweight MMA World Championship.
Adiwang also sees the scintillating victory as a statement of sorts, that all of the sacrifices and gambles that he did on his way back are all worth it.
"Leaving your comfort zone, making big sacrifices, it's all gonna be worth it in the end," he said. "Naipakita natin and na-prove natin, and I did my part. Mahirap man physically, emotionally, and mentally, but I did it and I really believe that I showed it with the result."