Importation in recent years has led to huge opportunity losses for the local poultry industry, as the Department of Agriculture (DA) aims to reverse these losses and give the country better food security, an official said over the weekend.
At the recent Poultry Forum 2023, Agriculture Undersecretary Deogracias Victor B. Savellano echoed President Ferdinand Marcos Jr.'s call to raise local livestock and poultry production by five times within the next five years.
He noted that chicken meat importation has been rising consistently over the last 15 years, from 45.772 million kilos in 2008, 67.264 million in 2009, 101.957 million in 2010, 127.227 million in 2011, to 411.069 million last year.
United Broilers and Raisers Association (UBRA) chairman Gregorio San Diego also said during the same forum that importation has displaced local production worth an estimated P58.28 billion or about 299.36 million broiler chickens.
Importation, San Diego said, also affected 315.12 million day-old broilers with an estimated value of P9.138 billion, and 2.52 million broiler breeders worth P756.29 million. Lost sales from chicken byproducts — head, feet, intestines, and blood — totaled P5.98 billion, he added.
Both officials noted that importation also leads to lost employment opportunities in feed milling, trucking, and dressing plants, as well as foregone feed sales of about P4.87 billion.
Foregone sales from biologics such as animal vaccines, vitamins, antibiotics, and disinfectants were estimated at P3.63 billion.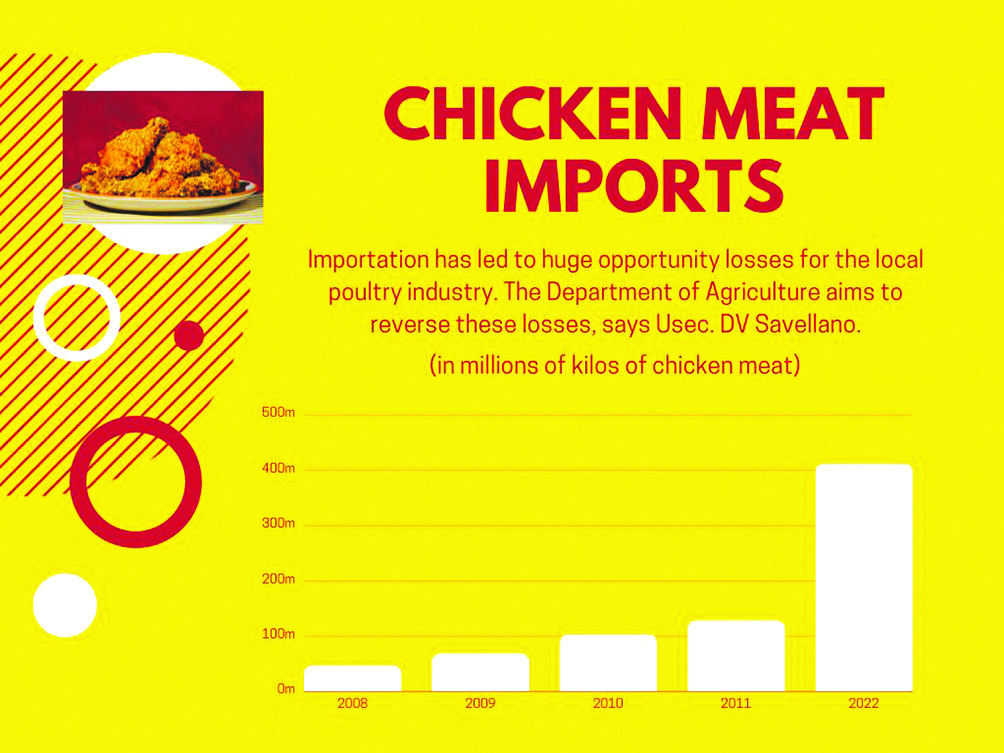 Savellano also emphasized the significance of a sound indemnification program to encourage farmers to report cases of Asian swine fever and avian influenza or bird flu to be able to contain these diseases and prevent an outbreak.
'Right now, nobody is reporting. We really need to fund this program," he said.
Savellano said the government will pursue all means to raise livestock and poultry production to achieve food security to go along with raising farmers' profit and lowering farm product prices while ensuring the availability of sources of protein for consumers.
"Recommendations from various sectors are currently being heard and studied to learn how, when, and where government actions are to be applied to boost our poultry sector," he said.
"We have started to meet with stakeholders to strategize a common direction and priorities in order to significantly increase our local food production, making it efficient, robust, and profitable for farmers," the DA official added.
Savellano said that as food security is national security, raising local agricultural production will be prioritized and will be realized through a consultative approach to governance.
"We will find ways to produce more to lessen importations. By consulting with livestock associations on how much each sector can produce, we will know the actual demand. It will be the consideration in determining the minimal quantity of imports," he said.